Silicosis
and
Lung Cancer

Silicosis and Lung Cancer
Silicosis Types
Silicosis is a progressive disease that belongs to a group of lung disorders called pneumoconioses. Silicosis is marked by the formation of lumps (nodules) and fibrous scar tissue in the lungs. It is the oldest known occupational lung disease, and is caused by exposure to inhaled particles of silica, mostly from quartz in rocks, sand, and similar substances.

It is estimated that there are two million workers in the United States employed in at risk jobs for the development of silicosis. These include miners, foundry workers, stonecutters, potters and ceramics workers, sandblasters, tunnel workers, and rock drillers. Silicosis is mostly found in adults over 40. Silicosis has four forms:
• Chronic: Chronic silicosis may take 15 or more years of exposure to develop. There is only mild impairment of lung functioning. Chronic silicosis may progress to more advanced forms.

• Complicated: Patients with complicated silicosis have noticeable shortness of breath, weight loss, and extensive formation of fibrous tissue (fibrosis) in the lungs. These patients are at risk for developing tuberculosis (TB).

• Accelerated: This form of silicosis appears after 5-10 years of intense exposure. The symptoms are similar to those of complicated silicosis. Patients in this group often develop rheumatoid arthritis and other autoimmune disorders.

• Acute: Acute silicosis develops within six months to two years of intense exposure to silica. The patient loses a great deal of weight and is constantly short of breath. These patients are at severe risk of TB.
The precise mechanism that triggers the development of silicosis is still unclear. What is known is that particles of silica dust get trapped in the tiny sacs (alveoli) in the lungs where air exchange takes place. White blood cells called macrophages in the alveoli ingest the silica and die.

The resulting inflammation attracts other macrophages to the region. The nodule forms when the immune system forms fibrous tissue to seal off the reactive area. The disease process may stop at this point, or speed up and destroy large areas of the lung. The fibrosis may continue even after the worker is no longer exposed to silica.
Find out more about…
Silicosis Related Diseases

FREE
Silicosis Packet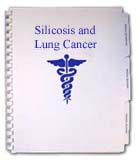 Click here to get this important patient information delivered to you quickly!
Popular Searches
silicosis
silica
COPD
sandblasting
tuberculosis
To Obtain the Best Treatment Info & Financial Assistance contact us for a FREE SILICOSIS INFORMATION PACKET which includes:
Hospital Locations
Exposure Risk
Hazardous Jobs
Palliative Care
Doctors
Financial Assistance
Fill out the form below or call 1-800-913-6376.