Silicosis
and
Lung Cancer

Silicosis and Lung Cancer
Silicosis and Silica News
Miners faced rough times in early American West
Some miners were injured in explosions or electrocuted. Others fell off ladders, slipped on rocks, inhaled silica dust, or suffered from mercury, lead or arsenic poisoning.
Darkness, dust, disease plague Rajasthan's mineworkers
the dust swirling around in quarries is mineral powder that causes a number of lung diseases, such as silicosis, tuberculosis (TB), silico-tuberculosis and asthma.
Red Tape Block To Silicosis Treatment
Just when Manik Debnath was wishing for the end to come, help came to him in the form of admission to a hospital. A month at the district hospital here and the 27-year-old suffering from silicosis wonders if death would have been better.
Advanced Pneumoconiosis Among Working Underground Coal Miners
Silica dust is more toxic to lungs than coal-mine dust, and categorization by exposure to these two types of dust can be a useful way to differentiate lung disease and identify causative factors.
Japan, ex-tunnel workers to settle lung disease lawsuits
The plaintiffs suffered from pneumoconiosis, a class of respiratory illnesses including black lung disease and silicosis that are caused by inhaling mineral dust, often in mines.
Grantsville Leader Aims To Fight Silicosis Dust-Busting Battle
Van Dame said one recent study showed that fugitive dust can cause silicosis, a lung disease commonly found in miners. "Silicosis is more than just a bad cough," Van Dame said. "It will kill you. This is serious business."
Ohio Foundry Fined $253K for Worker Safety, Health Violations By OSHA
The willful citations, with a proposed penalty of $168,000, were issued against St. Marys Foundry for failing to ensure employees wore respiratory protection, thus exposing them to silica dust at up to 2,109 percent of the OSHA permissible exposure limits, not enforcing the required hearing protection program, and for allowing workers to use higher than the allowable compressed air pressure.
Quartz References for New Workplace Safety
Crystalline silica or quartz is one of the most common minerals on Earth. When finely powdered silica gets in the air it becomes a significant health hazard. Respirable quartz is associated with the development of silicosis, lung cancer, pulmonary tuberculosis and other airway diseases.
When Man and Nature Collide: Protect the environment to protect health
Since Soviet times the cases of silicosis, illnesses of respiratory organs and blood have been the most widely spread in Kajaran. It's an industrial illness that emerges by the mining dust inhalation. There is also a high level of male genital illnesses, which is mainly connected with lead and molybdenum.
OSHA Targets Injuries and Silicosis Illnesses In Cut Stone Industries
Hazards to which industry workers can be exposed are crushing by improperly stored or handled stone slabs; silicosis and other lung diseases from exposure to airborne concentrations of silica caused by grinding and cutting
Occupational Health & Safety Progress Too Slow
According to CoM health adviser Dr Fazel Randera, the data available for the monitoring of silicosis is somewhat dated and not entirely accurate, as detection of the early stage of the incurable disease is still a challenge to the industry.
CombinatoRx Reports Positive Results for CRx-170 in Phase 2 Proof-of-Concept Asthma Clinical Trial
As measured by FEV1, the standard clinical measure of breathing capacity in asthma and chronic obstructive pulmonary disease (COPD), the novel combination CRx-170 demonstrated a statistically significant improvement from treatment baseline.
Dark Side Of Jewellery Gusiness Revealed In Silicosis
It has been reported that thousands of workers who polish stones, especially in China and India, are dying because their lungs are clogged with silica dust, a disease known as silicosis.
Silica In Hardrock Mines Brought Death Early
When silica dust particles are inhaled into the lungs, some become lodged and set up an irritation that destroys lung tissue. (Under a microscope, a particle of silica dust appears glassy with many sharp edges). The more dust inhaled, the more lung tissue destroyed. Miners with silicosis gradually lose their ability to breathe and are vulnerable to pneumonia and tuberculosis.
Silicosis claims inquiry widens
Silicosis is a potentially fatal lung ailment caused by the inhalation of fine dust particles. Roughly 10,000 people sued dozens of manufacturing companies claiming to have been exposed to the dust, which can be caused by sandblasting and concrete demolition.
TB: Anyone can get it – The Tuberculosis Epidemic
The tuberculosis epidemic is poorly controlled in South Africa, with local disease rates up to 60 times higher here than in the USA and Western Europe. Recently the World Health Organisation expressed concern about this high TB prevalence.
Silicosis Suits Involving Waco Law Firm Eyed By House Committee
A US House committee investigating silicosis lawsuits has asked a Waco law firm to provide records and information about the suits it filed. hese legal maneuverings are swirling around a disease caused by inhaling fine silica dust through occupations such as sandblasting.
Chinese Workers Silicosis Investigation Called By CIBJO
CIBJO is calling on companies operating gemstone and jewelry manufacturing operations in China, particularly in the Guangdong region, to investigate the silicosis epidemic that has stricken workers in gemstone and jewelry factories and to ensure that they receive proper medical treatment. "Deadly Dust", a report on the silicosis epidemic among Guangdong jewelry workers.
Chinese Worker Asked For Mask, Now Has Silicosis
Feng hopes to live long enough to collect money from the factory where he developed silicosis, an incurable ailment known as ''dust lung'' that kills more than 24,000 Chinese workers each year in professions such as mining, quarrying, construction and shipbuilding.
The global toxic dump
Decommissioned French aircraft-carrier Clemenceau has value, but also great danger for workers
Beta-2 Agonist (LABA) May Treat Chronic Obstructive Pulmonary Disease (COPD)
'797 is a novel long acting beta-2 agonist (LABA) discovered by Theravance that is being developed as part of its Beyond Advair collaboration with GSK for the treatment of asthma and chronic obstructive pulmonary disease (COPD).
Fish Oil May Treat Lung Disease
New research from Japan shows that eating foods like salmon, herring, walnuts, and flaxseed oil could help treat chronic obstructive pulmonary disease (COPD).
Silicosis Epidemic – CIBJO Urges Aid For Chinese Workers With Silicosis
The World Jewellery Confederation (CIBJO), has called upon companies which operate gemstone cutting and jewelry manufacturing operations in China to address what one report calls a "silicosis epidemic" among workers there.
DYSPNEA
Breathing discomfort or breathlessness is a serious problem and many suffer from chronic obstructive pulmonary disease (COPD) or asthma. With interstitial lung disease, neuromuscular disorders, lung cancer, and cardiac disease many people suffer from dyspnea
Shortness of breath?
Most people who have symptoms of shortness of breath (dyspnea) can be categorized into a respiratory system cause or from the cardiovascular system. The majority of cases of shortness of breath are caused by one of the following: asthma, chronic obstructive pulmonary disease (COPD), interstitial lung disease or cardiac disease.
Slow suffocation – Chronic lung disease just goes on forever
McGahan has chronic obstructive pulmonary disease, a condition marked by a gradual loss of lung function. It's the third-leading cause of death in Arizona, the fourth-leading cause in the United States. The term COPD describes the obstructed airflow found in emphysema and chronic bronchitis, separately or in combination.
Treatment Helps In Preventing Tuberculosis Among Those At High Risk
The drug isoniazid reduced the incidence of tuberculosis among HIV-infected miners in South Africa, a population at high risk of TB, according to a study in the June 8 issue of JAMA, a theme issue on tuberculosis.
Judge orders return of silicosis records
U.S. District Judge Janis Graham Jack threatened to hold a Houston attorney in contempt of court Monday after learning that the attorney had removed medical records in a massive silicosis lawsuit from a secure depository.
COLD WAR COMPENSATION: Analysis Finds Disparity
One Labor Department official said workers at three uranium enrichment plants — Paducah, Portsmouth and Oak Ridge — had only to show that they worked there for 250 days and that they had contracted one of 22 specified cancers, chronic beryllium disease or silicosis.
Understanding a Complex Killer – Silicosis
Respirable silica, a material present in cement construction products, including roof tiles, has been a known occupational health hazard for more than a century. However, because symptoms associated with respirable silica often mimic other diseases, silicosis, the disease caused by respirable silica, often is misdiagnosed.
Occupational disease Silicosis takes huge tolls on China
Though China began to tackle the problem of occupational disease in the 1950s, it was conducted in an administrative manner until the late 1980s, when the Management Regulation on Silicosis,the first such regulation concerning occupational disease, was issued in 1989, forcing the management of occupational disease onto a legal track.
Told silica would not hurt them
That is what former Dimet Contractors Pty Ltd employee Bob McGrath and his workmates were told about the silica dust they inhaled each day.
Industry has head in sand over rising silicosis claims
THE way the unions see it, toxic dust in the workplace is a national tragedy "which will see thousands of Australians die". But you wouldn't know that from the business fraternity, which professes to know little about any potential liability arising from dust-borne diseases.
In danger's way – Trapped in cycles of poverty, children toil in Bolivia's mines
Many of those who never escape the mines end up down the road at Obrero General Hospital, where there's a ward for black lung disease. Pablo Cruz started mining at age 13; now 47, he lies weak and skeletal, gasping for each breath.
Paying the price for ignorance of others
Now Mr White, 49, is slowly dying from silicosis, a potentially deadly disease with a long incubation period. In his case, it was diagnosed 20 years after leaving the RAAF base.
Beijing's green Olympics
Sikdar has compiled major occupational health hazards, which include gas poisoning, blood cancer, coal dust pneumoconiosis, silicosis, loss of hearing and diseases due to metal fumes and dust, among workers continuously exposed to sponge iron by products in the Durgapur area.
Senators to call for sandblasting disease inquiry
A Democrats Senator says the Defence Department may have employed contractors to do sandblasting after the potentially fatal practice was phased out 20 years ago. Sandblasting can cause the lung disease silicosis when victims inhale silica dust.
Therapeutic Inhibition of Matrix Metalloproteinases for the Treatment of Chronic Obstructive Pulmonary Disease (COPD)
The incidence of chronic obstructive pulmonary disease (COPD) is increasing worldwide and is ranked as the fourth most common cause of death in the United States. COPD is caused by long-term exposure to cigarette smoke, toxic gases, and particulate matter, leading to airway flow limitation and pulmonary failure.
Mining industry recommits to health, safety goals
Regarding silicosis and hearing loss, a chamber representative said there was a need for action. "Silicosis and hearing loss can be reduced and eliminated, but it is a long-term process," he added.
Frivolous silicosis claims spur backlash
The case involves 10,000 claims of silicosis, a lung affliction caused by the inhalation of sand dust.
Shutdown threat on hard coke units
Silicosis, said senior engineer S.K. Singh of the pollution control board, is the commonest occupational disease in the coal-belt and damages the liver, kidney, heart and lungs.
Treatment helps in preventing TB among those at high risk
Tuberculosis incidence was already high in this setting before the spread of HIV infection, largely because of a high prevalence of silica dust exposure.
JOHANNESBURG Miners' claims 'too vague' – lawyer
A group of eight miners are seeking compensation from Anglo American after contracting silicosis and phthisis during their employment on the company's mines.
In search of trace elements in the human body
Dust in certain mining localities creates health hazards on people as they inhale mineral dust and diseases like anthracosis, asbestosis, silicosis, siderosis attack healthy people globally.
Tribal kids in mica snare
The plight of child labourers in the tribal belt of Jharkhand has always been under scrutiny of researchers and NGOs. Despite all the work being done in this area, many are unaware of the condition of tribal children working in the mica mines of Giridih and Koderma.
SILICOSIS – Diagnosing for Dollars
Severe silicosis is a ghastly disease. Caused by prolonged inhalation of tiny sand particles, it slowly scars and contracts the lungs until the victim suffocates. A sandblaster who comes down with an acute case may need a lung transplant before he's 40.
Anglo plays delaying tactics in silicosis suit
The claimants, who are mainly from Welkom, are seeking compensation for gold miners affected by silicosis and phthisis — a combination of silicosis and tuberculosis.
Protect workers from silicosis and silica diseases
Two years ago, a group of migrant workers working in Donghu, Fujian Province, started suffering from silicosis, a lung disease caused by long-time exposure to dusty air loaded with silicon dioxide.
Civil Suits Over Silica in Texas Become a Criminal Matter in New York
A federal grand jury has been convened in Manhattan to consider possible criminal charges arising out of civil litigation over exposure to silica and asbestos, according to lawyers involved in the civil cases. The grand jury has subpoenaed documents from at least one of the companies that screened people who later claimed they had suffered injuries as a result of exposure to silica, a material that can cause respiratory disease and that is used in making glass, paints, ceramics and other materials.
MINING NEWS: MSHA's message: Silicosis Prevention preferable to cure
Dust particles half a micron in size or less can get into the lungs and never come back up, accumulating and creating scar tissue. Asbestos, beryllium and crystalline silica (quartz) are the most dangerous types of dust. There is no effective treatment for the chronic illnesses caused by dust, such as pneumonoconiosis and fibrosis.
Manhattan grand jury investigating silicosis lawsuits
Hundreds of lawsuits from several states for exposure to silicosis were consolidated in a Corpus Christi federal court. Silicosis is a lung scarring disease caused by inhaling quartz dust, usually from work sites. Acute silicosis can cause symptoms similar to chronic bronchitis and emphysema such as coughs, fever, and weight loss.
Shoshone Nation aims to stop Yucca nuke dump
Hager also said Shoshones already are being poisoned by the project and that as many as 2,500 of them are at risk of getting silicosis – fibrosis of the lungs caused by long-term exposure to silica dust – from the project.
TNPCB seeks expert help from environmental institute
Besides dust, the presence of silica content is causing a lot of respiratory diseases, including silicosis, in elderly people. The dust pollution from the crushers is high during the evening hours, when they go for blasting rocks
Three Dahod stone quarry workers succumb to silicosis
Three of the seven stone quarry workers from Dahod's tribal belt who contracted silicosis have died while disability benefits from ESIC still remain elusive for the surviving four.
Silicosis deaths down sharply in U.S. – CDC
Deaths from silicosis, an incurable lung disease once common among miners, stonecutters and other industrial workers, have fallen 93 percent in the United States since 1968, bolstering hopes it may disappear.
Silicosis Mortality, Prevention, and Control – United States, 1968-2002
Silicosis is a preventable occupational lung disease caused by inhaling dust containing crystalline silica; no effective treatment for silicosis is available. Deaths from inhalation of silica-containing dust can occur after a few months' exposure.
Occupational diseases drop 73.5%
Permanent Secretary for Economic Development & Labour Matthew Cheung today told the Legislative Council the number of confirmed silicosis cases has fallen for four consecutive years, to 69 last year.
Don't Breathe the Moondust
Lunar dust, being a compound of silicon as is quartz, is (to our current knowledge) also not poisonous. But like the quartz dust in the Hawk's Nest Tunnel, it is extremely fine and abrasive, almost like powdered glass.
Gujarat stonecutters prone to TB, silicosis
The main reason, it is reported, is the growing number of people working in industries like stone cutting and brick making, which makes the persons working in these industries more prone to diseases like Tuberculosis and Silicosis.
Trucks continue to rattle
Each day, Sally Yandle of Olympia watches quarry dust settle on her porch and worries what she's breathing in. The crystalline silica in crushed stone and asphalt mix has been linked to respiratory disease.
Asbestos Claims Decline, but Questions Rise
Silicosis is a respiratory disease caused by exposure to silica, which is used in making glass, paint, ceramics and other materials.
Department of Energy employees could be entitled to up to $150,000
Workers may receive medical benefits and/or financial compensation and survivors could be eligible for compensation through the act. Covered illnesses include radiaogenic cancer, chronic beryllium disease, and silicosis
Critics Sandblast Calif. Silicosis Suits
Silicosis suits have received heavy publicity in recent months, with investigation of a mass tort in Texas and congressional testimony calling into question thousands of diagnoses made in recent years.
Artists create safe environment
Artists working on stone have the similar, but far worse situation. The fibers from stonework can build up into a condition called "silicosis." Former Merritt Island sculptor Catherine Ferrell developed silicosis from inhaling fine particles from marble.
Doctor's testimony ignites legal storm
Lawyers for hundreds of companies throughout the country that have been sued in asbestosis and silicosis cases are eager to see if N&M's files support their long-held suspicions.
Silicosis screening process irks judge
In U.S. District Court, the judge, a former registered nurse married to a cardiologist — has turned investigator, demanding documents and interrogating doctors. She was incredulous upon learning a man whom the records described as working near sandblasting his entire career turned out to be a schoolteacher.
Silica Sand Health Scare at New Racetrack
A HEALTH scare has been raised over material to be used in a proposed new all-weather track at Musselburgh racecourse which has been linked to lung disease and cancer.
Judge orders screener to appear today – Silicosis-tester did not turn over his records
Silicosis is a life-threatening disease that has been associated with an increased risk of lung cancer and some tissue diseases. The disease can be diagnosed through the use of lung X-rays, a physical examination and a review of a patient's exposure to silica dust.
OSHA Fines Massachusetts Contractor $60,000 for Silica Hazards
Though the exposed employees wore respirators, those devices alone were insufficient protection. The silica hazard was aggravated by the company's failure to medically evaluate all workers to determine if they could safely use respirators and by its failure to perform fit-testing to ensure that the respirators had a proper seal. Silica is a human lung carcinogen. Prolonged inhalation can lead to silicosis, a disabling and potentially fatal scarring of the lungs that reduces their ability to take in oxygen
Silica Risk Could Be Declining: Guy Carpenter
Silica is essentially a compound of the elements silicon and oxygen, which occurs naturally in crystalline and non-crystalline forms. The crystalline form has given rise to lawsuits brought by workers who worked with silica sand. They allege that small particles they inhaled during abrasive sandblasting and other operations have caused a variety of lung ailments, including silicosis.
Doctors headed to court
Silicosis is a lung inflammation caused by exposure to silica dust. Crystalline silica, more commonly called quartz, is used in sandblasting, concrete demolition and the production of paint and fiberglass. The disease typically is diagnosed through the use of lung X-rays, a physical examination and a review of a patient's work history.
Homeland insecurities – Montserrat and silicosis
Temporary Protected Status was granted in 1997 because of volcanic activity on the island, eruptions that killed people, burned and buried entire towns, showered the inhabitants with poisonous gases and ash that cause the lung disease silicosis, and rendered two thirds of the island uninhabitable.
Oak Ridge Selected For Worker Medical Screening Program
Unfortunately, these workers are at potentially high risk for a number of lung diseases, such as chronic beryllium disease, asbestosis, silicosis, radiation injury, and cancer as a consequence of past occupational exposures.
Quarry project runs into opposition
An attorney living in Susquehanna River Hills, said the dust from crushing rocks could cause problems similar to those caused by asbestos. It can cause silicosis, and this can cause death. That's why we are so concerned about the children at Meadowvale Elementary School, which is just a few hundred yards away, he said.
Department of Labor Expedites 100 Claims Under New Energy Workers' Compensation Program
The Department of Labor has issued more than $1 billion in compensation and medical payments to approximately 12,800 claimants. Part B provides a lump sum payment of $150,000 in addition to medical expenses for current and former Energy Department employees who became ill as a result of their exposure to radiation, beryllium or silica. Covered conditions include radiogenic cancers, beryllium diseases and chronic silicosis.
Conservation a better option than CPS coal plant
The proposed plant would add a lot of pollution to our atmosphere: more than 6 million tons of carbon dioxide; 140 pounds of brain-damaging mercury; particles that trigger asthma and heart attacks; silica, which causes black lung disease; hydrochloric acid; sulfur dioxide; and nitrogen oxide.
Officials plan emergency responses – silica catalyst dust
Having heard no sirens or warnings of potential danger, they began their daily routines, along with the added step of sweeping the fine-powdery stuff off of their cars.
OSHA Offers Health Info on Crystalline Silica
The most severe worker exposures can occur during abrasive blasting with sand. Other common exposures to silica dust can occur during the manufacturing of cement and brick; mixing or drilling concrete and mortar; and the manufacturing of china, ceramic and asphalt.
Crystalline Silica
Each employer should institute a medical surveillance program for all employees who are or will be exposed to airborne concentrations of silica or other substances above the permissible exposure limit.
Recommended Exposure Limit (REL) for Crystalline Silica
OSHA recognizes the severe health hazards associated with over exposure to crystalline silica and continues to take steps to reduce the incidence of silicosis.
Bhopal — when Foreign Direct Investment goes wrong
Union Carbide, it is worth mentioning, is also famous for the deaths of nearly 2,000 workers due to silicosis while building a tunnel in West Virginia in 1930, was involved in the Manhattan Project (remember Hiroshima?) in the '40s and made napalm for the US forces to use in Vietnam in the '60s.
Silica feared as 'next asbestos'
Silica sand, which is often turned into a gel and put into handbags and electronic goods to soak up moisture, has become the latest substance to join a list of toxic products worrying underwriters.
Occupational Lung Diseases
Silicosis is the oldest known occupational lung disease. It's causes by inhaling silica dust. Silica is used in foundry work, pottery, glass making, and ceramics such as tiles and bricks. Stonemasons, sandblasters, and quarry workers may also be exposed to silica dust.
From Rainforests to Kitty Litter – Breathing Silica, Washing Vegetables and Saving Habitat

FREE
Silicosis Packet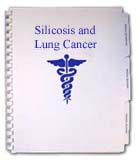 Click here to get this important patient information delivered to you quickly!
Popular Searches
silicosis
silica
COPD
sandblasting
tuberculosis
To Obtain the Best Treatment Info & Financial Assistance contact us for a FREE SILICOSIS INFORMATION PACKET which includes:
Hospital Locations
Exposure Risk
Hazardous Jobs
Palliative Care
Doctors
Financial Assistance
Fill out the form below or call 1-800-913-6376.