Silicosis
and
Lung Cancer

Silicosis and Lung Cancer
Silicosis / Overview
This website was created to help silicosis patients and their families and friends with up-to-date information about the disease. We have the latest information on silicosis, its symptoms, causes, diagnosis, and treatment. We have also gathered vital information on coping with the personal and financial effects of silicosis, which may be difficult to deal with without the proper preparation.
'Grinder's rot', 'Potter's rot', and 'Stonemason's disease' are all names that were used in the past to describe the commonest of the occupational lung diseases, silicosis. Although less common nowadays a number of people are still diagnosed every year with this incurable disease. Silicosis develops over time when dust-containing silica is inhaled into the lungs. Other examples of occupational lung diseases include coalworker's pneumoconiosis and asbestosis.
For some unknown reason silica in crystalline form is toxic to the lining of the lungs. When they come into contact with each other a strong inflammatory reaction occurs. Over time this inflammation causes the lung tissue to become irreversibly thickened and scarred -called fibrosis.
The most common form of silicosis is called chronic silicosis, and the symptoms develop over many years of exposure. However, in the rarer form, called acute silicosis, the symptoms develop very quickly after only a short period of exposure to high levels of silica dust.
Because this disease maybe debilitating, it is very important to seek medical treatment as soon as possible. The Treatment Options section describes how to Relieve the Symptoms, Lifestyle Changes, and What to Ask your Doctor. In our Financial Assistance section, we discuss how patients and their families may be helped with medical bills and financial concerns.
Because silicosis is linked to silica dust exposure, see our At Risk Jobs and Exposure section to find out if you or a loved one has worked in a job associated with silica dust exposure and to find out how to prevent further exposure.
To navigate our site, use the links to the left.
For a Free Information Package to assist in obtaining the best treatment and financial assistance for yourself or loved one call 1-800-923-6376 or email us below.

FREE
Silicosis Packet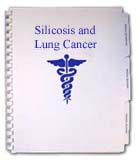 Click here to get this important patient information delivered to you quickly!
Popular Searches
silicosis
silica
COPD
sandblasting
tuberculosis
To Obtain the Best Treatment Info & Financial Assistance contact us for a FREE SILICOSIS INFORMATION PACKET which includes:
Hospital Locations
Exposure Risk
Hazardous Jobs
Palliative Care
Doctors
Financial Assistance
Fill out the form below or call 1-800-913-6376.