Silicosis
and
Lung Cancer

Silicosis and Lung Cancer
At Risk Jobs / Exposure
A risk factor is anything that increases a person's chance of getting a disease such as silicosis. The main risk factor is exposure to crystalline silica dust either by working directly at the job or as a bystander working next to someone.
At Risk Jobs include:
• Sandblasting and helpers
• Construction, especially bridge, tunnel, and elevated highway
• Wrecking and demolition
• Concrete work
• Surface mining and quarrying
• Underground mining
• Stone cutting
• Milling stone
• Agriculture
• Foundry
• Ceramics, clay, pottery
• Vitreous enameling of china plumbing fixtures
• Glass manufacturing
• Manufacturing of concrete products and brick
• Manufacturing of soaps and detergents
• Shipyards, railroads
It is important to note Bystanders are also at risk.

Exposure / Materials Containing Crystalline Silica:
• Granite and marble
• Quartz and quartzite
• Sand, gravel, and sandstone
• Slate and Traprock
• Many abrasives used for abrasive blasting
• Concrete, concrete block, cement
• Brick and refractory brick
• Mortar
• Gunite
• Soil, especially sandy soil
• Asphalt containing rock or stone
Controlling Silica Exposure:
Methods to control silica exposure include:
• Elimination of the toxic material.
• Substitution of a less toxic material.
• Isolation or enclosure of any dirty operations.
• Installation of local exhaust ventilation.
• Better maintenance, housekeeping and hygiene practices.
• Changes in work practices to avoid breathing in silica dust

Respirators should be provided and used by the employee as short term protection when exposure to toxic materials is suspected. Respirators, however, should not be used as the only method of control.

Also, OSHA prescribes maximum permissible exposure levels that must be followed by employees.
Find out more about…
Silicosis Related Diseases

FREE
Silicosis Packet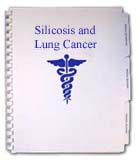 Click here to get this important patient information delivered to you quickly!
Popular Searches
silicosis
silica
COPD
sandblasting
tuberculosis
To Obtain the Best Treatment Info & Financial Assistance contact us for a FREE SILICOSIS INFORMATION PACKET which includes:
Hospital Locations
Exposure Risk
Hazardous Jobs
Palliative Care
Doctors
Financial Assistance
Fill out the form below or call 1-800-913-6376.