Silicosis
and
Lung Cancer

Silicosis and Lung Cancer
Silicosis Types
Medical Encyclopedia at MedlinePlus
Provides information such as Illustrations, Alternative names, Definition, Causes, incidence, and risk factors, Symptoms, Signs and tests, Treatment, Support Groups, Expectations (prognosis), Complications, Calling your health care provider, and Prevention
eMedicine on Silicosis
Silicosis – Pneumoconiosis is the general term for lung disease caused by inhalation of mineral dust. Silicosis is a fibronodular lung disease caused by inhalation of dust containing crystalline silica (alpha-quartz or silicon dioxide), which is distributed widely, or its polymorphs (tridymite or cristobalite), which are distributed less widely. Silicosis has been a human scourge since antiquity.
Outreach Materials for Silicosis from OSHA
Workplace safety and other informational products that will facilitate your outreach program for silicosis.
University of California, San Francisco
Offers Silicosis and Silicatosis information and includes several photos
Canadian Lung Association
Site offers information on Asbestosis, Pneumoconiosis, Silicosis, Berylliosis, Baritosis, Siderosis, Stannosis, and Other Dust Diseases
Find out more about…
Silicosis Related Diseases

FREE
Silicosis Packet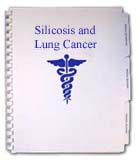 Click here to get this important patient information delivered to you quickly!
Popular Searches
silicosis
silica
COPD
sandblasting
tuberculosis
To Obtain the Best Treatment Info & Financial Assistance contact us for a FREE SILICOSIS INFORMATION PACKET which includes:
Hospital Locations
Exposure Risk
Hazardous Jobs
Palliative Care
Doctors
Financial Assistance
Fill out the form below or call 1-800-913-6376.